Frequently Asked Questions
---
1. Who we are?
Chengdu King-tiger Pharm-chem. Tech. Co., Ltd., located in Chengdu, China, was founded in the year of 2007 by Dr. Chan.
We are now the few professional manufacturers for the series of natural high purity product, such as Astragalus extract (Astragaloside IV, Cycloastragenol, Calycosin-7-O-beta-D-glucoside, Astragalus polysaccharides, Astragalus P.E. ), Panax notoginseng Extract (Total Ginsenosides), Gardenia jasminoides Ellis extract (Genipin) etc. in China.
Dr Chan, majored in natural plant chemistry, who was graduated from Chengdu Institute of Biology, Chinese Academy of Science.)
2. Do we have the test reports for our products provided by the independent third party?
Every batch of our product was tested by authorized independent third party, Analysis testing center, Chengdu branch, Chinese Academy of Science. We send goods to customers with test report and COA. Our products were also tested by SGS, Eurofins, Intertek, TUV too.
3. What is our advantage?
The series of natural extracted product are all self-developed, produced and tested. Mature production technology, strict cost control, and perfect quality assurance system, ensure the product stability and competitive price.
4. How we perform an order?
Email inquiry to sales@king-tiger.com is preferred in our company. We usually give our formal quotation list or formal reply within 24 hours including price, lead time and any other information customer needed. Our quotation is usually valid for three months.
5. What is the minimum order quantity?
No matter how much do you need, we all can supply you with the suitable package, from sample quantity to bulk order.
6. Cycloastragenol CAS: 78574-94-4 & 84605-18-5 Difference Description
Cycloastragenol was hydrolyzed from Astragaloside IV.
The molecular structure of Astragaloside IV CAS: 84687-43-4 is as follows.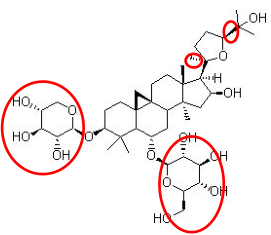 After hydrolyzed two sugar, we gain the following molecular structure.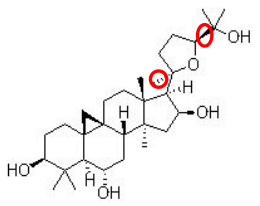 This molecular structure is Cycloastragenol CAS: 78574-94-4, that is the glycone of Astragaloside IV. And Chengdu King-tiger Pharm-chem Tech.Co., Ltd. offered is Cycloastragenol CAS: 78574-94-4.
There are some suppliers using CAS: 84605-18-5, the molecular structure is as follows.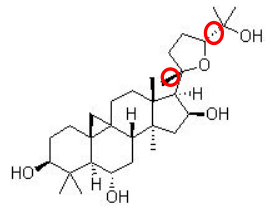 From the red mark, we can see that this is not the directly hydrolyzed products from Astragaloside IV.
Also, many reagent companies using CAS: 78574-94-4 as the CAS No. for Cycloastragenol.
Reference: https://www.sigmaaldrich.com/US/en/search/cycloastragenol?focus=products&page=1&perpage=30&sort=relevance&term=cycloastragenol&type=product