Galangin
---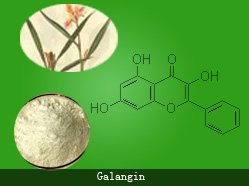 Introduction:
Product Name: Galangin 98%
Plant source: The root of Alpinia officinarum Hance
Appearance: Yellowish powder to yellowish needle-like crystal
Molecular Weight: 270.24
Molecular Formula:C
15
H
10
O
5
CAS No.: 548-83-4
EINECS: 208-960-4
Melting Point: 213~215℃
Function:
Modern studies have shown that natural plant ingredients Galangin owns chemical protective effect (anti-teratogenic, anti-mutation), antiviral, antibacterial, anti-inflammatory and anti-cancer effects. The antioxidant effects of natural flavonoids have been widely used in some anti-aging beauty care products as well as treatment of cardio-cerebrovascular disease.